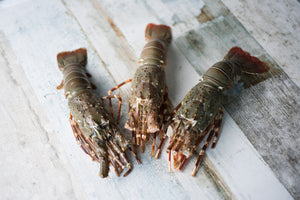 Frozen Bamboo Lobsters (400 to 600g)
Bamboo Lobster is a species of lobster that lives in the tropical reefs. Lobster meat is priced for it's exquisite taste in any gourmet and have been argued that eating lobster meat pushes the process of premature aging!
Level up your BBQ party with our Bamboo Lobsters. Dazzle your guests with your very own version of Aburi Lobster Mentai "elixir".
What You Require For Aburi Lobster Mentai:
- Mentaiko sauce to drizzle on
- Butane torch for charring the mentaiko sauce