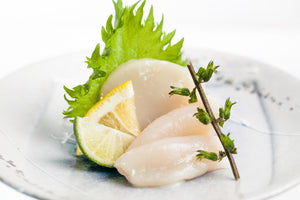 Premium Grade Hotate Sashimi (1kg)
Harvested from the sea of Japan, these succulent gems pack in the taste of the ocean in every bite. Blast frozen to ensure quality, these scallops are ready to be consumed as sashimi once thawed.
Each 1kg box comes packed with approximated 41-50 pcs. Easy storage in the freezer to maintain quality.


 What You Require For Aburi Mentai Hotate:
- Mentaiko sauce to drizzle on the Hotate
- Butane torch for charring the mentaiko sauce