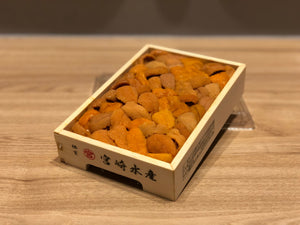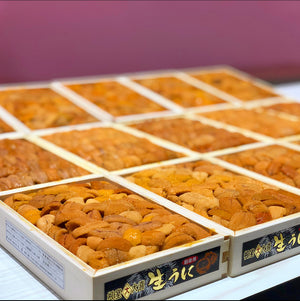 *Pre-order* Auctioned Grade Bafun Bara Uni (250g)
Bara is a term where Uni is set in a "crisscross" alignment on each tray. Each tray is 250g and air flown to us directly after being auctioned at the markets in Japan.

Farmers mix smaller and various shaped Uni into a bara style layout, but that does not mean an inferior quality. Although not as visually attractive as the Narabi arrangement, this product is great for an intimate home dining where quality counts over looks.
Shipment arrives twice a week (Wednesday and Saturday)
What You Require For Uni Don:

- Japanese Rice
1 Rice cooker cup (150g), yields 330 g of cooked rice - about 2 portions
OR
You may be feeling a little lazy and want to grab the Microwavable steamed Japanese rice (Fuss free) option
- 100g Uni per portion
- 100g Ikura per portion
- 3 x 1/2 sheet nori seaweed per portion
- Furikake seasoning, add to flavour
- Japanese soy sauce (on the side)
- Wasabi (on the side)
Garnishing
Thinly sliced spring onions (scallions), to garnish