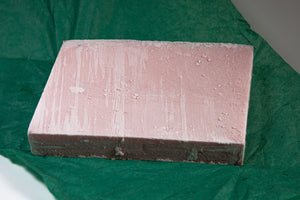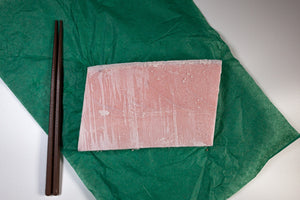 *PREMIUM CUT* Hon Maguro Sashimi Grade Frozen Otoro (Finest cut of the Otoro)
The Otoro is the most desired part of the the tuna belly. Being the fattiest part of the fish with rich flavour, this cut is a chef's favourite in elevating the taste profile of the sashimi platter.  As such, the Otoro is valued as the priced cut of the Hon Maguro.
This cut of Otoro comes from the larger Hon Maguro (above 280kg). Hence, every block of Otoro contains only the fattiest portions with no Chutoro parts.
This premium cut of Otoro (outer belly) is more succulent with lesser veins for an even better dining experience.

Each frozen block comes as 400-500g.
Recommended Processing Method:

Best to be portioned into desired slices for consumption while still semi frozen. 
Using a knife made for sashimi purposes, slice off the skin and base of intended portions. Unused portions to be kept frozen together with skin and base for best quality.
Best consumed when still very slightly frozen.
Block of Otoro recommended to be consumed within 48hrs.
What You Require For Otoro Sashimi:
- Japanese soy sauce (on the side)
- Wasabi (on the side)