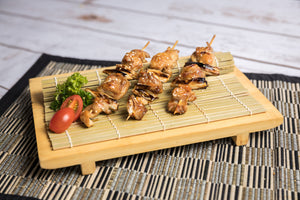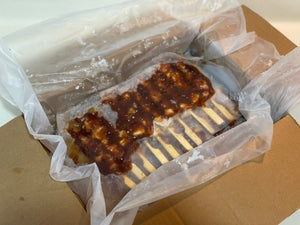 Premium Yakitori - Chicken thighs (50 sticks)
Yakitori (焼き鳥) - A Japanese type of skewered chicken, typically skewering small pieces of meat and grilling over charcoal. Designed for convenience, each skewer is served flavoured and individually "bite-sized" portioned for the easy consumption.
Our choice of Yakitori comes (frozen) grilled and glazed with teriyaki sauce. Packed in cartons of 50 sticks, the skewers are separated into sets of 10 for easy access and storage.
Preparation is simple!
Place frozen skewers into the oven, 180 to 200 degrees for 30 mins.